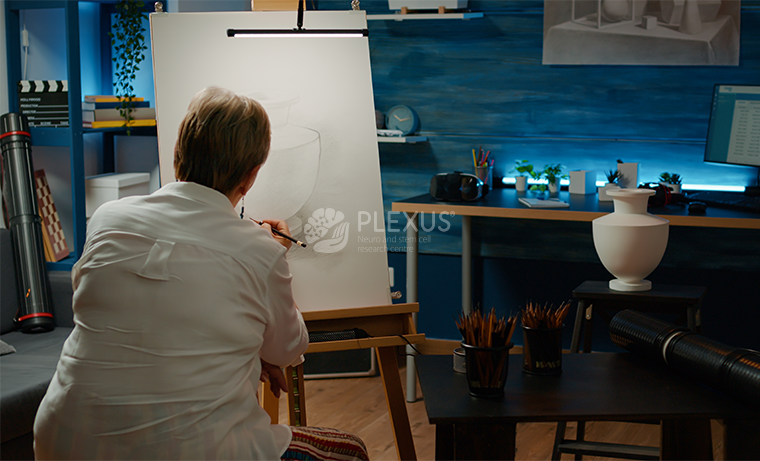 Ms. A is a 46 year old art teacher from Maldives. On 1stApril, 2017 a trivial fall that happened in her response to a "cockroach" lead to a series of life changing events. She suffered from a high level spinal cord injury that rendered her paralyzed and helpless for a lifetime.  She suffered from C5-6 spinal cord injury. She underwent a surgery that fixed the vertebral fracture at Maldives itself and started receiving rehabilitative treatment. By virtue of the nature of the injury she was able to raise her arms slightly and bend elbows and had total paralysis of wrists, hands, trunk and legs. She was able to speak but breathing was weakened. She needed assistance with all activities of daily living like brushing, bathing, dressing, eating etc. One year after this unfortunate incident she came to Plexus with the dream of becoming independent once again. Being an art teacher in a pre-primary school she wanted to be able to use her hands again to draw and paint. She desperately wanted to get back to her work.
On assessment it was found that she had severe shoulder stiffness on both the sides, no trunk control, she was not able to sit, complete paralysis of hands and legs, no sensations in her trunk and legs. She was in a "bed ridden" state on her arrival at Plexus. In addition to the innumerable physical deficits and problems, her mental state was also very low, she was extremely de-motivated and depressed due to her condition. A team of highly specialized professionals attended to her complains and she was inducted into the Plexus Regenerative Rehabilitation Program which comprised of stem cell therapy along with intensive physiotherapy and occupational therapy. Goals were set and regularly her condition was reviewed with the team. The goals of rehabilitation were to achieve maximum trunk control, reduce stiffness of all the limbs and gradually gain independence towards her daily activities.
As days became months Ms. A gained more and more independence in her daily activities. The stiffness present in her shoulders disappeared, she started sitting on her own and her trunk became stronger, she started eating a sandwich first and later rice on her own and most importantly she was able to write, draw and paint with her right hand. Her strong will, the super specialized treatment services and the continuous motivation by team Plexus made her achieve her dream of being able draw and paint. As time unfolded itself, she was seen standing with assistance towards the end of her treatment program.