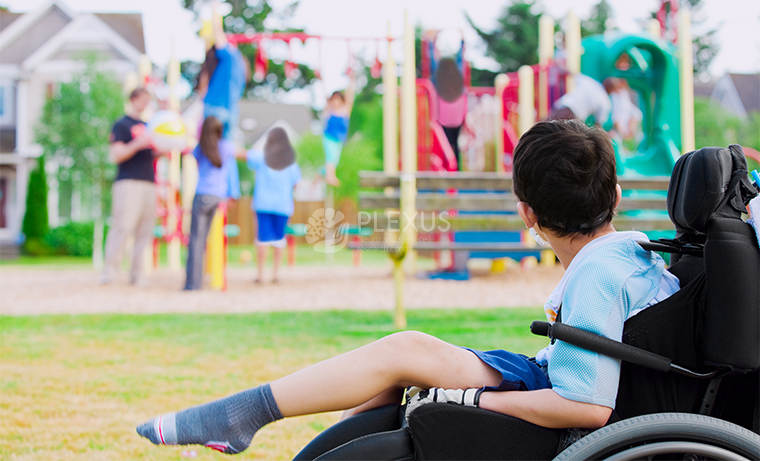 Baby Indu (name changed) is a 10-year-old girl from Bangalore. She had been suffering from ataxia telangiectasia, a genetic condition which was believed to have no treatment in medical science so far.
Her family history includes father working in a cycle repair shop and mother housewife. She has one younger sister also. As for her past medical history, she was growing fine till 2013 when she started suffering from bouts of fever with recurrent respiratory infections. This was followed by progressive weakness in upper and lower limbs. Eventually she lost her ability to perform daily activities like bathing, dressing, grooming, eating, and toileting independently. Her condition started deteriorating and she was unable to walk, talk and follow commands. She was brought to Plexus in December 2017.
On assessment it was found out that she had slow response to verbal commands, poor reaction time, very poor postural control and low arousal level. Whenever she attempted to walk she had frequent falls as her balance was also poor. Besides, she had poor eye-hand coordination, coupled with poor speech.
She underwent three and a half months of intensive treatment at Plexus. She was treated by a specialized medical team involving neurologist, physiotherapist, occupational, speech and language therapists.
It was a pleasant surprise that after treatment her condition improved by almost 50-60 percent! There was a noticeable improvement in her level of arousal. She was more alert, started to respond faster to verbal commands. She was able to carry out all her activities independently. Her walking balance, which was much of a concern in the past, showed signs of great improvement. What is more, after the treatment she was able to play cricket with her younger sister! Her holistic development does not end there, her speech improved by 50%. Now she is able to recite rhymes like "twinkle twinkle little stars" with actions.
For her parents seeing her improvement was nothing short of a miracle.