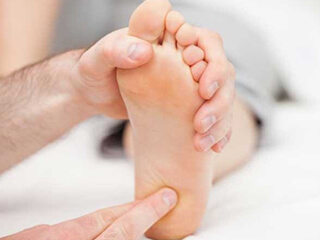 India is slowly becoming popular as the world's hub for diabetes. One of the most important parameters for diabetes control is regulation of sugar consumption as high blood sugar levels can lead to nerve injuries throughout the body; this is known as diabetic neuropathy and mainly affects the legs and feet. This serious condition can be prevented by keeping a tight control on blood glucose levels and leading a healthy lifestyle. It's believed that small blood vessels that supply nerves get damaged when sugar levels are high, leading to painful neuropathy. Depending on which system is affected by neuropathy, it can lead to pain, tingling, disability or numbness in the extremities or to problems related to the digestive tract, the urinary system, kidneys, sex organs, blood vessels or heart. The symptoms range from being absent to being mild, to being fatal or near fatal. Symptoms also usually take time to develop over years and the risk rises with increasing duration of diabetes; about 60-70% of diabetics have some form of neuropathy or the other with the incidence being greatest in those with diabetes for 25 years and above.
Causes of diabetic neuropathy (DN) could include metabolic factors such as high glucose and fat levels in the blood, low levels of insulin, autoimmune inflammatory factors leading to nerve damage, damaged blood vessels that supply oxygen and nutrients to the nerves, mechanical injury to nerves through trauma, hereditary weakness to nerve diseases, excessive smoking or alcohol abuse, etc.
Symptoms of nerve damage include wasting of the hands and feet muscles, diarrhea/constipation, indigestion, nausea and vomiting, weakness, dizziness or faintness, urination problems and erectile dysfunction in men and vaginal dryness in women. All these are aside from the common feelings of pain, numbness and tingling in the extremities.
There are four main types of diabetic neuropathies: peripheral, autonomic, focal and proximal, with each affecting a different part of the body. Proximal neuropathy affects the legs, hands, fingers and toes while the autonomic variant affects the bowel and bladder function, sexual response and perspiration; it also affects the nerves that supply the heart, lungs and eyes. Autonomic neuropathy is very dangerous as it causes hypoglycemia unawareness. Focal neuropathy can affect any part of the body leading to weakness in a bunch of muscles while proximal neuropathy causes pain in the thighs, or buttocks, leading to weak legs.
DN can be diagnosed by checking muscle strength and reflexes, sensitivity to temperature, light touch or vibration and blood pressure and heart rate.
Treatment involves maintaining normal glucose levels to prevent further nerve damage, a healthy lifestyle and taking regular diabetic medications or insulin. And by relieving pain with anti-seizure medications and managing complications appropriately along with the use of anti-depressants.
The best way of course, is to prevent DN by keeping blood sugar levels in the safe range!