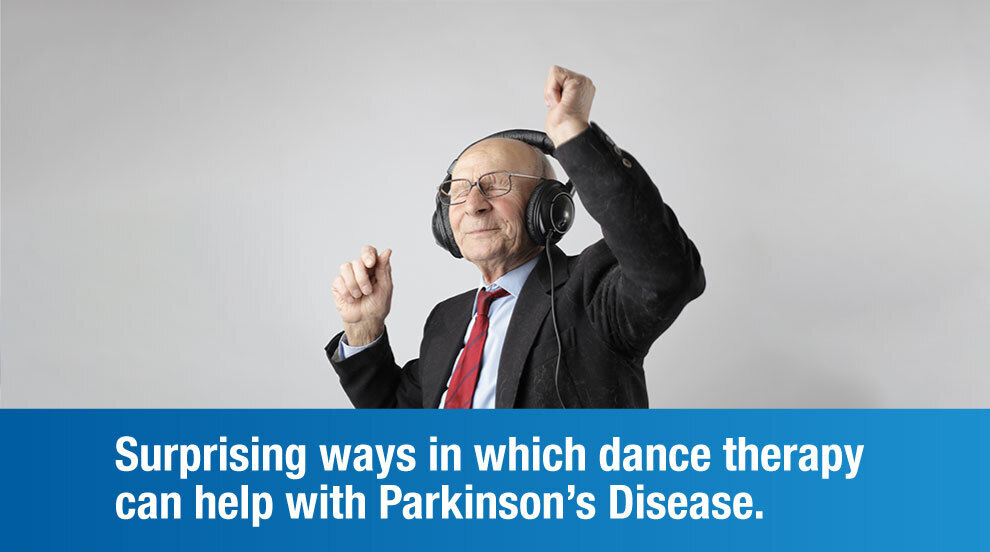 Dancing is one of the most natural and comforting art forms, performed to express emotions, cultures, skills, and, above all, for enjoyment. Due to the fitness and social aspects of dance, studies have shown therapeutic dancing has been advocated as an effective addition to conventional physical therapy. People with incurable, terminal diseases, such as Parkinson's Disease, stand to gain a lot from dance therapy, in terms of improvement in balance, coordination, posture, and mental health.
Parkinson's Disease is the gradual breakdown or death of nerve cells. It is characterized by decreased secretion of dopamine —a neurochemical that is responsible for controlling the brain's reward and pleasure centers and regulating muscle movement. It is progressive, meaning that it gets worse over time.
The exact reasons that trigger the disease are unknown, but several factors come into play. These can include age, genetic mutations, and hereditary factors, as well as exposure to certain toxins or environmental triggers.
The best treatment for Parkinson\'s Disease includes all factors, including the age of the patients, stage of illness, and severity of symptoms. Although the disease does not directly kill people, it can cause severe complications such as making patients more prone to falls, pneumonia, and infections.
Therapeutic Dance for Patients
Dance/movement therapy uses movement, in all forms, as a means of observation, assessment, and intervention. Dance therapy does not necessarily focus on a stylized choreography, a specific set of skills, or technique. Instead, it allows individuals to move and find comfort in their bodies and to express what words might be too difficult to uncover.
Dance therapy can help support people with Parkinson's Disease and it is facilitated by registered individuals with a degree in this form of therapy. Depending on where they practice, they may be clinical counselors, social workers, creative arts therapists, or psychologists.
Benefits of Dance for Patients
Parkinson's Disease affects both motor and non-motor functions of patients. This includes movement disorders such as bradykinesia, tremors, rigidity, and postural instability, which vary over time and between individuals. Nonmotor symptoms include cognitive impairment, autonomic dysfunction, depression, and anxiety which can lead to withdrawal from participation in social activities.
Several studies have shown conventional physiotherapy to have short-term benefits for gait, postural stability, mobility, and quality of life in some individuals with Parkinson's Disease. Nevertheless, compliance and adherence with physiotherapy and routine exercises can be challenging over a long period. This is where non-conventional therapy, such as dance therapy, comes in.
Over the past couple of decades, an increasing amount of research has been carried out on how different forms of dance might help treat Parkinson's Disease. Dance appears to be very helpful in improving gait and balance in patients. It also can provide social stimulation and support, which can help reduce depression and improve quality of life. Additionally, dance stimulates cognitive functioning, an area that patients often struggle with.
What Type of Dance is Best for Parkinson's Disease?
Every patient shows different symptoms and requirements, resulting in varying responses to dance forms. Some patients benefit from structured classes and practice, while others prefer to move their bodies freely to music.
Here are a few types of dance that have been shown to have a specific value for people with Parkinson's Disease:
Research suggests that tango might be a strategy for improving functional mobility deficits. Tango can involve learning specific ways of moving that might improve gait and balance
Some patients enjoy certain dances including interpretive, ballet, tap, folk, and social dancing. This helps them experience the joys and benefits of dance while creatively addressing symptom-specific concerns related to balancing, cognition, motor skill, depression, and physical confidence
Zumba is a dance fitness program that combines these elements of fitness: cardio, muscle conditioning, balance, and flexibility, choreographed to Latin and world music. The Gold version of Zumba is a lower-intensity, low impact version that emphasizes balance and coordination, along with social interaction
Treatment
A diagnosis of Parkinson's Disease, like any other chronic and incurable disease, can be life-altering and scary. Since the exact causes are unknown, a center specializing in the treatment for Parkinson's Disease holistically approaches the symptoms. The treatment plan includes a customized combination of the following:
Prophylactic options such as Stem Cell Therapy and specific medication
A customized Regenerative Rehabilitation Program which comprises regular physiotherapy, occupational therapy, and speech therapy
Living with Parkinson's Disease
It is imperative to remember that being diagnosed with Parkinson's Disease is not a death sentence.
Symptoms can be effectively controlled with proper medical supervision and advice, maintenance of good physical and mental health, and emotional support from friends and family.