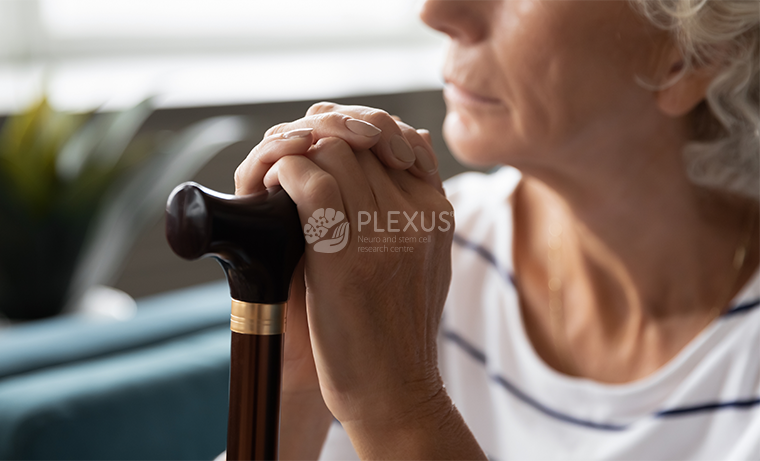 When 65-year-old Mrs Devi from Jharkhand made arrangements to come to Plexus, she wasn't even sure she could make the trip. Suffering from Parkinson's Disease (PD), Mrs Devi found it excruciating to get around the house, let alone travel for treatment. Her legs were weak, her feet were partially numb, and she experienced significant hand tremors. To make matters worse, she had recently become wheelchair bound.
The mother of two and grandmother of four had been suffering from Parkinson's for the past seven years. The disease left her severely handicapped, leaving her unable to perform simple daily activities. Her condition got worse to a point where she felt too weak to even play with her grandchildren – which she considered her greatest loss.
Over the years, her condition had continued to deteriorate, with the onset of severe imbalance issues, muscle stiffness, and slowness in her body and gait. Multiple visits to doctors and multispeciality clinics all proved futile. Traditional treatments and procedures ultimately could not bring Mrs Devi back to her grandchildren.
When Mrs Devi finally arrived at Plexus, our team performed extensive diagnostics to understand her condition. After careful analysis, a complete treatment program was designed keeping her specific needs in mind. The ensuing two-month therapy focused on helping her regain strength, build endurance, and improve flexibility. Our holistic approach included a unique combination of stem cell therapy, physiotherapy, occupational therapy, acupuncture, and other rehabilitation therapies suited to a PD patient.
At the end of the two months, Mrs Devi felt a great reduction in the stiffness and tremors attacking her body. The treatment had made a huge difference in her life — it was now possible for her to get dressed, shower, perform daily chores, and walk normally on her own.
Today, Mrs Devi lives her life without anything holding her back. She has even reported back to Plexus saying that her mood had improved a lot, she has renewed energy, and that she can now manage herself around the house independently. In fact, she even helped throw a party for her grandson's birthday last year, where she helped with all the cooking and preparations. A year ago, this kind of activity would have been unthinkable for Mrs Davi. But thanks to Plexus, her story of recovery and rejuvenation inspires PD patients all over the world, and gives them hope that they too can regain control of their lives with the right treatment.