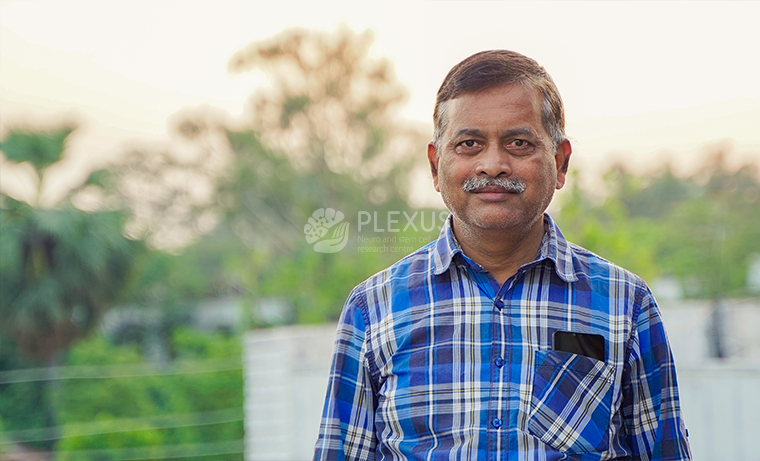 It was four years ago when Mr A, a 58-year-old businessman from Bangalore, was diagnosed with Parkinson's Disease (PD) after experiencing symptoms for several years prior. He initially thought it was simply a trembling spell, until he started experiencing other symptoms such as involuntary movements, muscle rigidity, and a slow shuffling gait.
Although he was able to cope with the chronic disease initially, with time, the stiffness in his neck and back, and tremors in his arms and legs made day-to-day activities increasingly painful. Visits to multiple doctors proved to be fruitless. Mr A's condition only worsened, and soon he was unable to chew, swallow, walk, write, or even speak clearly. The trauma and depression that followed made him a recluse – withdrawing from society almost entirely.
However, there was a light at the end of the tunnel. On April 2015, Mr A visited Plexus Neuro and Stem Cell Center, albeit with little hope for improvement. Nevertheless, an in-depth initial investigation by our specialists put to motion an individual treatment route specifically designed for him and the severity of his condition. The treatment was planned to help him regain strength, endurance, and flexibility – essential needs for a PD patient. The plan comprised stem cell therapy, intensive rehabilitation programmes, physiotherapy, and occupational therapy, which steadily rebuilt Mr A's body and motor skills to perform daily functions.
In just two months, Mr A was a changed man. The treatment significantly improved his condition; he was now able to perform his daily tasks independently. This also gave Mr A his feeling of control and agency back, as he was actually doing things to help himself.
The biggest change though, was in his mental outlook. He began to dismiss his so-far negative attitude towards his condition and adopted a more positive outlook. With his hope restored, Mr A began to re-acclimate himself with society. It was very evident that his quality of life had changed – even his unclear, mumbling voice had been replaced with a louder, stronger one.
Thanks to Plexus' treatment, what seemed like an impossible dream for Mr A, is now a reality. He is currently close to a 95% recovery. He no longer experiences any PD symptoms and is becoming fitter, stronger, and healthier by the day. In short, Mr A's story of perseverance and patience is an inspiration for patients worldwide suffering from Parkinson's.