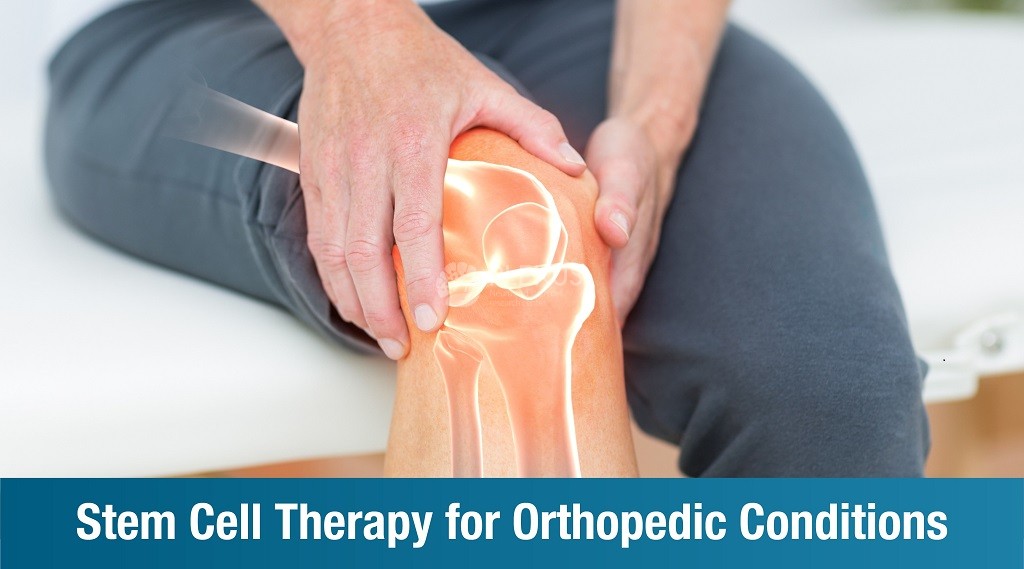 In recent decades, stem cell therapy for orthopedic conditions has significantly improved the quality of life of those suffering from excruciating pain. 
From alleviating pain, and improving flexibility and overall functionality, stem cell therapy for orthopedic conditions may just be the answer our loved ones have been looking for.
Let's read on to know more.
What are orthopedic conditions
Our musculoskeletal system is made up of bones, muscles, joints, ligaments, tendons, and nerves. Any kind of trauma to the musculoskeletal system can result in orthopedic conditions, ranging from mild to severe. 
The most common types of orthopedic conditions are:
Arthritis and other degenerative conditions

Osteoporosis and other age-related conditions

Bone tuberculosis and other diseases affecting musculoskeletal system

Congenital conditions and genetic abnormalities, such as cerebral palsy

Traumatic injuries resulting in dislocations, ligament tears/strains, and fractures

Trauma at childbirth

Amputation

Bone tumours
Causes of orthopedic conditions
The most common triggers of orthopedic conditions include:
Age

Overuse or repeated stress to a particular joint

Trauma or injury
Symptoms of orthopedic trauma
If you or your loved one experience any of the following symptoms, you need to visit an orthopedist right away.
Muscle spasms and pain

Restricted motion in joint and/or limb

Bone or joint pain

Localised stiffness or swelling

Deformity in the place of trauma
Common procedures for orthopedic conditions
Traditionally, doctors and orthopedic surgeons may recommend any of the following methods or procedures to help manage orthopedic conditions:
Joint repair

Joint replacement

Spinal surgeries 

Soft tissue repair

Internal fixation (use of plates, screws, or pins to fix broken bones)

Osteotomy (process of correcting bone deformities)

Arthroscopy (process of diagnosing and treating joint issues)
Most of the above procedures have a lengthy recovery period, are invasive, and may also cause other side-effects.
Stem cells' ability to regenerate or repair damaged tissues makes them the ideal choice for managing orthopedic conditions such as osteoarthritis of the knee, plantar fasciitis, meniscus tears, and so on.
At Plexus, we use autologous mesenchymal stem cells taken from the patient's own body to help you manage your condition. Our team of expert orthopedists and stem cell specialists will devise a customised rehabilitation programme that will help reduce pain, slow down degeneration, and also improve quality of life. Periodic assessment of patient progress also enables our specialists to alter the programme accordingly.
Stem cell therapy puts the body's self-healing mechanism into motion. Injected stem cells will restore diseased, damaged, or degenerated cells, regenerate tissue. Post-procedural recovery is quick, with many patients experiencing lesser pain in their joints, and increase in ability to perform everyday functions. 
The other benefits of autologous mesenchymal stem cell therapy for orthopedic conditions include:
Non-surgical and painless procedure

No bed rest post-procedure

Zero side-effects and no risk of immune rejection as stem cells are procured from the patient's body
Read about how mesenchymal stem cells are applied in the rehabilitation of orthopedic conditions, such as arthritis and osteoarthritis of the knee.
If you wish to know more about our stem cell therapy for orthopedic conditions at Plexus, reach out to us today.
WhatsApp +91 89048 42087
Call +91 78159 64668 (Hyderabad) | +91 82299 99888 (Bangalore)
FAQs
Is there stem cell treatment for the knees?
Yes, Plexus' stem cell therapy for osteoarthritis of the knee is a non-surgical procedure that reduces inflammation, and helps in the management of pain.
Is stem cell therapy better than surgery?
Stem cell therapy is a non-surgical procedure and has a quicker recovery period when compared to surgery. However, the severity of the patient's condition will determine the course of treatment.
How painful is a stem cell injection?
A tiny prick is all you will feel at the time of retrieving stem cells and reinjecting cultured stem cells back into the body.