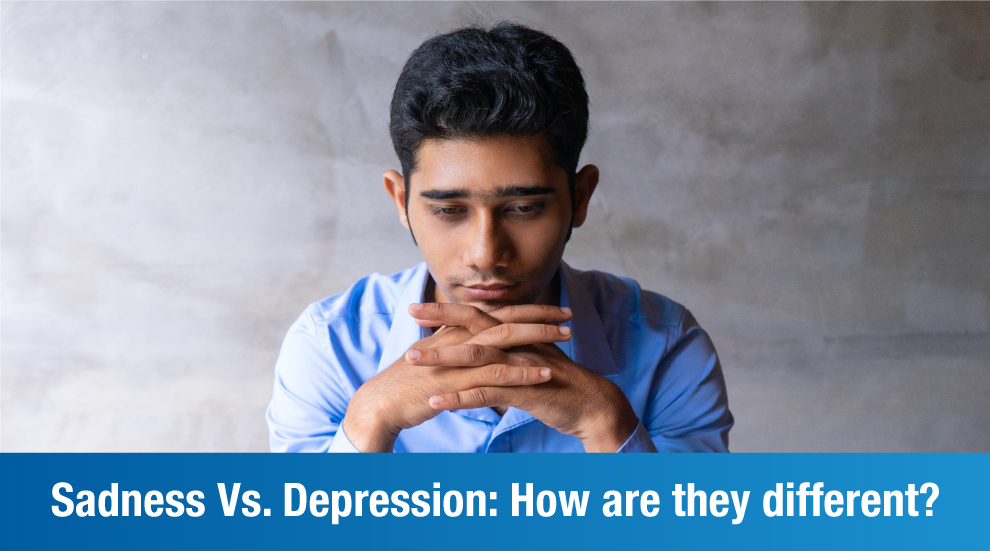 There are approximately 264 million people in this world suffering from depression. Are they just sad? The answer is an absolute no. In simple terms, Sadness is an emotion — a feeling that goes away after a period of time. Depression, on the other hand, is a mental disorder that does not go away on its own.
Let\'s delve deeper to know the difference between the two.
Sadness It is a very normal human emotion brought on by difficult or stressful situations — loss of a loved one, financial setbacks, health problems, or other personal issues. However, it is easy to overcome this temporary state of mind by doing things that make one happy, sharing/venting, or even crying. Moreover, once the temporary phase passes, or the individual is able to handle the issue, the feeling of sadness automatically subsides, and normal behaviour is resumed.
If this doesn\'t happen, and the feeling continues for an extended period of time, it might be a sign of depression.
Depression This is a mental disorder that has serious implications on almost every aspect of a person\'s life. Depression can hit anyone at any time — irrespective of gender or social status. These are some of the common symptoms:
A sense of discouragement
Sadness
Hopelessness
Lack of motivation
Loss of interest in activities that the individual once found enjoyable
Also, depending on the severity of the condition, the symptoms may worsen and the person may develop suicidal tendencies. The World Health Organization has classified depression into two major categories based on severity:
Recurrent depressive disorder: As the name suggests, this type of depression will include repetitive episodes. The afflicted person will go through bouts of sadness, mood fluctuations, loss of interest, tiredness, and a decrease in productivity on regular intervals for at least two weeks. Moreover, during recurrent depression, people will also have
feelings of low self esteem, guilt, disturbed sleep, and appetite. Depending on the symptoms and their severity, this form of depression can be categorized as mild, moderate, or severe. When a person goes through the mild or moderate version, he/she will face difficulties in carrying on with normal life but will not cease to function totally. On the contrary, during a severe episode, it is highly unlikely that the person will be able to function normally, be it personally, socially, or professionally.
Bipolar affective disorder: This comprises extreme mood swings and was formerly known as manic depression. This level of mania affects the person\'s sleep, energy, activity, judgement, behaviour, and ability to think clearly. These episodes may occur rarely or even multiple times a year. While some of the affected people might go through certain emotional experiences in between episodes, others may not.
Causes and treatment While there are a number of common causes of depression like family history, childhood trauma, and drug abuse, certain medical conditions — especially neurological disorders — can also lead to depression.
These are known as neuropsychiatric disorders that have origins in neurology and psychiatry. Multiple factors such as traumatic head injuries, infections, side effects of medication, genetics, and environmental conditions can be the reason behind these disorders.
Common neuropsychiatric conditions include:
Epilepsy
Migraine
Eating disorders
Attention Deficit Hyperactivity Disorder (ADHD)
Autism
Parkinson's Disease
Alzheimer's Disease
Dementia
Mood disorders
Obsessive compulsive disorder (OCD)
Psychotic disorders
Sleep disorders
Living with depression is not an option. One must seek help and explore the following ways to tackle the condition:
Medication First and foremost, one should not indulge in self-medication. Antidepressants, anti-anxiety, and anti-psychotic medicines used to manage the adverse effects of depression have benefits as well as risks. Always consult a doctor and take only what is prescribed.
Psychotherapy Sessions with the therapist can help one overcome negative thoughts. The therapist, depending on the severity of the condition, might also recommend family or group therapy sessions.
Occupational therapy Therapists can help the person examine and create a balance between leisure, work, and relationships. The therapist can define the roles of the person and help him/her adapt to their responsibilities so that they can participate and finally gain a sense of accomplishment.
Exercise One should aim to indulge in physical activities for at least 30 minutes, 5 days a week. Exercise increases the production of endorphin hormones that have a positive effect on one's mood — however, exercise alone cannot treat depression.
Although depression is an overpowering mental health disorder with a potential to disrupt lives, with proper and timely intervention, its progression can be halted.