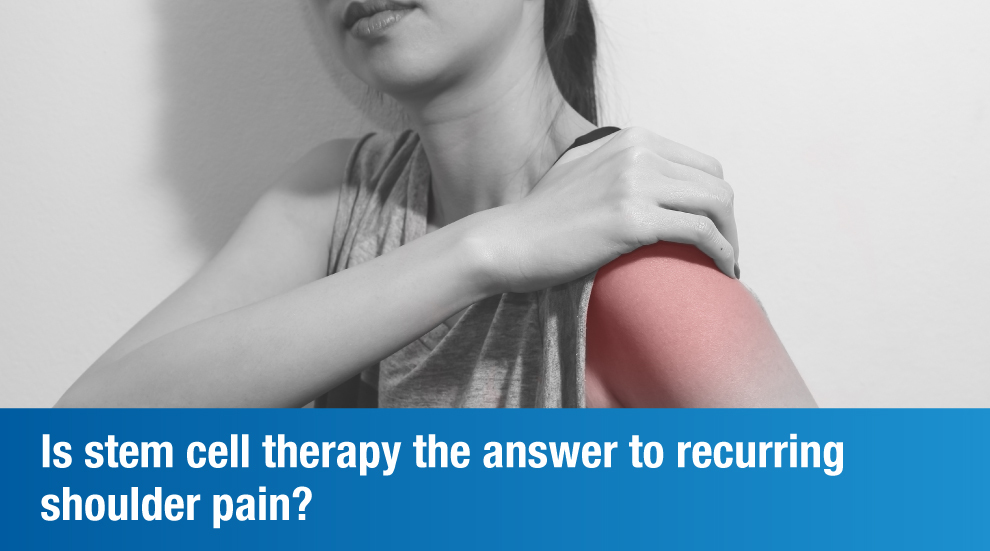 Have you ever experienced bad shoulder pain or a severe injury to the shoulder that brought your day-to-day activities to a halt?
Shoulder pain is the third most common musculoskeletal condition, after neck and back pain. However, what usually starts off as mild discomfort, can turn into a serious ailment if not given the required attention. That is just one of the reasons why it's essential to identify its triggers and treat it at the earliest.
Let's start by first looking at the causes of shoulder pain, which may vary from individual to individual. These include, but are not limited to:
Broken arm
Broken collarbone
Joint inflammation
Dislocated shoulder
Heart attack
Rotator cuff injury
Strain due to heavy lifting
On the first instance of such pain, our usual reaction is to wait it out or try quick fixes such as heating pads, muscle relaxants, or painkillers. While these may provide temporary relief, a medical diagnosis is imperative to determine the course of further, long-lasting treatment.
Common treatment measures for shoulder pain
In most cases, surgery is often the recommended way to go, especially in cases of:
Extreme difficulty in movement
Frequent dislocations
Severe joint damage
That being said, it's important to note that surgical procedures often involve long and painful recovery periods — during which movement will be severely restricted. That's when an extensive physical rehabilitation process comes in, which can require a long hospital stay and a large commitment in terms of time.
This is where Stem Cell Therapy comes in as a practical alternative that allows you to leave the hospital in just a few hours, with relatively lesser pain and discomfort.
What is Stem Cell Therapy?
Stem cells are regenerative cells that can be differentiated into specific regions and multiply into newer cells. The procedure entails harvesting Platelet Rich Plasma (PRP) from your blood and injecting them into the damaged areas of your body, guided by x-rays and ultrasounds. PRP is a blood plasma that consists of platelets, which stimulate the growth of stem cells on a large scale.
Disorders caused by degeneration or wear and tear of cells in the body can ideally be treated with this therapy — one that has significantly decreased the need for surgical procedures. In addition, since stem cells are already a naturally occurring part of the body, the procedure involves minimal chances of infection or rejection.

Stem Cell Therapy for shoulder pain
When it comes to shoulder pain, Stem Cell Therapy involves the extraction of stem cells and PRP from the patient's bone marrow or blood and injecting it to the damaged part of the shoulder.
Typically, a single stem cell injection is all that is needed to treat mild shoulder pain. However, if the shoulder has endured multiple or severe damages, the patient will have to be injected with additional PRP to regenerate the stem cells a month after the initial injection, along with an additional dose a few weeks after.
The cells typically take 3-4 weeks to recover, leading to a gradual reduction of pain. Eventually, the patient will experience complete pain-free mobility of the shoulder.
When to choose Stem Cell Therapy for shoulder pain?
It is important to note that the conditions of Stem Cell Therapy may vary for each individual. Factors such as the severity of the shoulder injury will need to be accurately assessed by a specialist before devising a suitable treatment plan. For instance, it is recommended that minor or partial tears are treated with Stem Cell Therapy whereas more severe injuries may require advanced procedures.
Life After Stem Cell Therapy
Stem Cell Therapy in India is often the chosen treatment option for most patients since it is known for its quick recovery times and effective pain relief. Most patients can return to sports activities or heavy-duty chores within 4-12 weeks depending on the severity of the injury. From minor to chronic shoulder conditions ⁠— stem cell therapy effectively treats pain, promising patients a healthy future free of agony and discomfort.